Talend provides a powerful and versatile open source big data product that makes the job of working with big data technologies easy and helps drive and improve business performance.
Talend simplifies the development of big data and facilitates the organization and orchestration required by these projects so that you can focus on the key question: "What use should we make of data, big and small, and how am I going to be the leader in using data to help my business?" Talend's big data product combines big data components for Hadoop, Hbase, Hive, HCatalog, Oozie, Sqoop and Pig into a unified open source environment so you can quickly load, extract, transform and process large and diverse data sets from disparate systems.
Find out more from us and see how we can provide consulting, development, and expertise on technologies that are focused on data management and integration.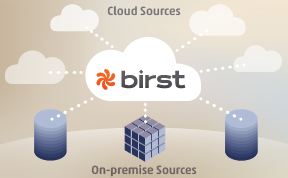 Mobile BI
Cloud BI
Birst Appliance Installations
Scripting and ETL for Birst
Pixel-Perfect Reporting
Report Design and Optimization
Data Visualization Best Practice
Dashboards & Data Exploration
Mapping
Integration with Salesforce.com
White Labeled Applications
Our Birst solutions are custom to each of our client's requirements and may include training, support, sales, and consulting. Contact us for more information about our Birst solutions.