We will work with you to evaluate your existing practices and systems, recommend courses of action, develop practices, and create a Salesforce Consulting strategy.
Sales & Service Cloud Setup
We will setup, configure and customize Salesforce to support your business needs. Email templates, workflows and approval processes will be created for business process automation. We will create highly effective custom reports and dashboards to give you better insight into your business.
Custom Development
Often, custom development is required to realize the full potential of Salesforce. We have many man-years of experience developing custom features for standard Salesforce applications.
Data Migration
We offer data migration services that include data extraction, cleansing, de-duplication, standardization and validation, and import into Salesforce.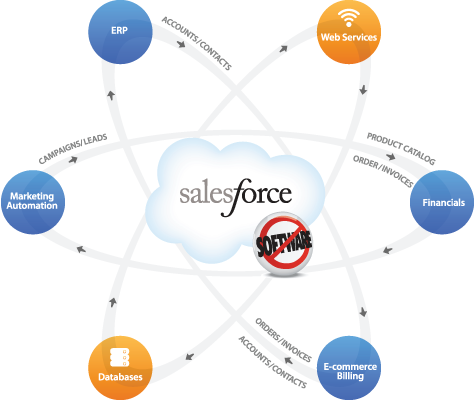 Integration
We will help you integrate Salesforce with your other business critical systems such ERP applications, financial software, marketing automation software, call center software and more.
Support
Ongoing maintenance and continued improvements are critical for the success of a Salesforce implementation. We offer affordable, reliable Salesforce support services. Learn more…
Why choose us as your Salesforce implementation partner:
Affordable: All of our clients get the attention they deserve without the overhead and bureaucracy of larger consulting companies. We combine onshore-offshore delivery to cut delivery costs without compromising the quality.
Flexible: We give our clients the flexibility to choose from day one exactly how they would like to work with us. Our services range from a single resource to a full-scale turn-key outsourcing solution.